FOLLOW US:




This Month
With this year's Gold Star Parents Honor & Remembrance event just behind us, we look to the months ahead and a full roster of special events and programs that Commemorate, Educate and Serve. Help us sustain these programs and carry on the values of the US Armed Forces: Become a monthly donor today! Our monthly donors are a special group of generous supporters dedicated to protecting our legacy by providing steady, reliable support for the Marines' Memorial. Thank you!
Upcoming Events

If you are interested in sponsoring a Club event, please contact the Development Department at Development@marinesmemorial.org.
New Member Reception


MEMBER EVENT WEDNESDAY 13 MARCH, 5 p.m.


Are you a new member? Join us for a personal introduction to the Club, your fellow new recruits, and the Membership team. This is MMA 101: how to get the most from your membership, how to host or sponsor an event, all about the Living Memorial and a tour of the building. We look forward to seeing you.

TICKETS: Members Free |

CLICK HERE

TO REGISTER

African-American Shakespeare Company presents
Black Eagles
THEATER 16-31 MARCH


African-American Shakespeare Company presents an extraordinary drama about the Tuskegee Airmen. The play opens at a reception honoring the Airmen. As the elderly pilots reminisce, they are joined by their younger selves to retell the story of this brave company. 15% off promo code: BlackEagles15

St. Patrick's Day Party


HOLIDAY SUNDAY 17 MARCH, 4 p.m.


Join the shenanigans in the Leatherneck Steakhouse! Come be Irish with us as we eat, drink, and dance the evening away to the music of the Spinheads. Tickets include 2 drink tickets and corned beef and cabbage buffet. A cash bar will also be available.

TICKETS: Members $59, Others $79 |

CLICK HERE

TO REGISTER

Mike Pereira | Battlefields to Ballfields


SPEAKER EVENT THURSDAY 28 MARCH, 6 p.m.


Battlefields to Ballfields provides Veterans an opportunity to integrate back into their communities through football officiating and scholarships - and they're looking for Veteran candidates! Join us as Fox Sports analyst and former NFL referee Mike Pereira describes this unique and important program.

TICKETS: Members $15, Others $25 |

CLICK HERE

TO REGISTER
Easter Brunch


HOLIDAY SUNDAY 21 APRIL, Seatings at 12 noon and 1 p.m.


Join us for a lovely celebration featuring a gourmet buffet, refreshing mimosas, and live music.

TICKETS: Members $80 Adults, $53 Ages 6-12; Others $95 Adult, $63 Ages 6-12 |

CLICK HERE

TO RESERVE

Lieutenant General H.R. McMaster, USA (Ret)


GEORGE P. SHULTZ LECTURE

WEDNESDAY 24 APRIL, 5:30 p.m.

Our popular George P. Shultz Lecture Series continues with a presentation from former National Security Advisor H.R. McMaster. LTG McMaster will shed light on his experiences in military and government service. Reserve your tickets today, and enter code MMA to receive member pricing.

TICKETS: Members $20, Others $30 |

CLICK HERE

FOR TICKETS

In Our Theatre | MarinesMemorialTheatre.com

Commonwealth Club presents
Frans de Waal
LECTURE 20 MARCH 6:30 p.m.


In his new book, Mama's Last Hug, best-selling author and primatologist Frans de Waal takes readers on a whirlwind tour of new findings about animal emotions, based on his studies of the social and emotional lives of chimpanzees, bonobos and other primates. This promises to be a fascinating evening!

JB presents
Classic Cole Porter
MUSIC 7 APRIL 6 p.m.

JB Presents brings 30 local performers to our Theatre to celebrate legendary composer and lyricist Cole Porter's contribution to the American songbook. Hear classics from the 1920s, '30s, and '40s, from Begin the Beguine to Anything Goes. Don't miss this elegant evening of harmony, comedy, and beautiful music.

More for Members
Happy Hour in the Flying Leatherneck Lounge


MEMBERS ONLY

TUESDAY – FRIDAY 4 – 6 p.m.

The Flying Leatherneck Lounge on the Club's 2nd floor is a great place to run into old friends and meet new ones. If you're staying here, Happy Hour is complimentary. Why not stop in this week? We look forward to seeing you!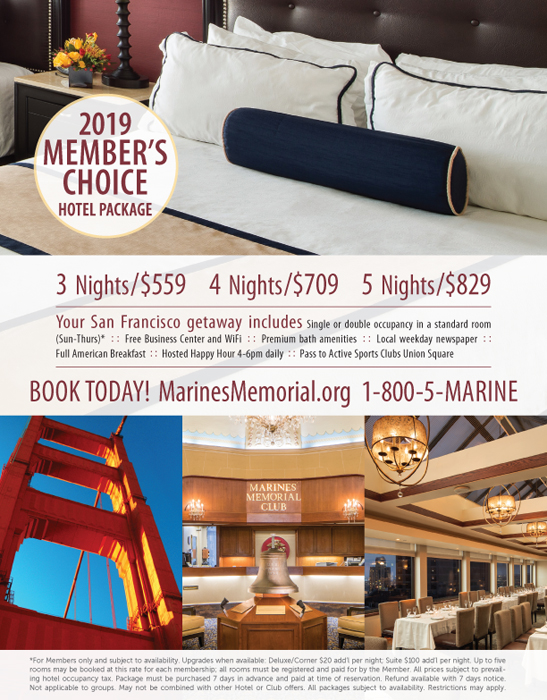 MarineClub Bully Notecards


MARINE CLUB STORE


For 15 years, the MarineClub Bullies have spread goodwill and cheer as the loveable mascots and official canine ambassadors of the Marines' Memorial Club. Continue the tradition with a guaranteed smile by sending these assorted notecards to friends and family! Boxed in sets of 8 cards/envelopes.

CLICK HERE

TO ORDER YOUR NOTE CARDS

Wedding on a Budget? We can do that.


MMC EVENTS & CELEBRATIONS

Introducing the Skyline Wedding Package. Available Sunday and Monday evenings only, your all-inclusive celebration takes place on the Club's 12th floor, with stunning views, expert event coordination, exceptional service, and gourmet catering. Only $89 per person (50-90 guests).

CLICK HERE

TO EMAIL OR CALL LISA JIMENEZ AT (415) 830-9135
Reciprocal Clubs Worldwide: Download the List

Are you planning to travel? As a member, you have reciprocal privileges at over 240 private clubs around the world! The complete listing of our Reciprocal Clubs, including addresses and contact information, is available for download here.

609 Sutter St, San Francisco, CA 94102 | Tel: (415) 673-6672
Marine's Memorial Association © 2019 All rights reserved.