FOLLOW US:




This Month
Happy New Year! We are proud to look back on a full year of programs that helped us realize our mission to make a difference in the lives of Service Members, Veterans and their families. And we couldn't have done it without the generosity of our members and patriotic supporters! Check the inside front cover of the latest Crossroads magazine to see why your donation matters. Won't you help us make 2019 even better with a Sustaining Gift to the Marines' Memorial?
Stop into the Club soon to welcome 2019 with old and new friends. We look forward to seeing you.
Crossroads of the Corps

Your Association and Club News for Winter 2019




Watch your mailbox for the Winter 2019 edition of Crossroads of the Corps. This issue includes a detailed look at the Marines' Memorial Foundation, which opens important new avenues for supporting the Marines' Memorial. Please share your copy of the magazine, especially with Veterans who are not yet members!

CLICK HERE

TO READ CROSSROADS ONLINE

Upcoming Events

If you are interested in sponsoring a Club event, please contact the Development Department at Development@marinesmemorial.org.
Robert McLaughlin | The Capture of the U-505: A Legion of Heroes


MEET THE AUTHOR WEDNESDAY 23 JANUARY, 6 p.m.


The capture of the German U-505 was one of the most extraordinary stories to emerge from the Battle of the Atlantic in WWII. Join Marine Veteran Bob McLaughlin as he shares his tribute to the civilian and military heroes whose bravery defeated the enemies of the free world during the Battle of the Atlantic.

FREE EVENT |

CLICK HERE

TO REGISTER
2019 Superbowl Sunday Watch Party


FAMILY EVENT SUNDAY 3 FEBRUARY, 3 p.m. Kickoff


Bring the family for a viewing party at Marines' Memorial! Enjoy a tailgate-style buffet, cash bar, games and prizes. Tickets include 2 drink tickets and snacks, and admission is free for those 16 years and younger. Doors open at 2:00 p.m. Call (415) 673-6672 and ask about our special room package.

TICKETS: $25 - $40 |

CLICK HERE

FOR MORE INFO

St. Patrick's Day Party


HOLIDAY SUNDAY 17 MARCH, 4 p.m.


Join the shenanigans in the Leatherneck Steakhouse! Come be Irish with us as we eat, drink, and dance the evening away to the music of the Spinheads. Tickets include 2 drink tickets and corned beef and cabbage buffet. A cash bar will also be available.

TICKETS: $59 Members, $79 Others |

CLICK HERE

TO REGISTER

In Our Theatre | MarinesMemorialTheatre.com

SF Sketchfest 2019


COMEDY 10-27 JANUARY


Audible presents the 18th Annual SF Sketchfest Comedy Festival. This year's lineup includes SF Sketchfest Tributes with Margaret Cho and W. Kamau Bell, Improvised Shakespeare Company, Selected Shorts: Too Hot For Radio, Futurama Live, and much more. Tickets go fast, so if you love to laugh, don't wait!

Humanities West: Democracy Then and Now


LECTURE SATURDAY 2 FEBRUARY


A scintillating conversation on the ancient principles of democracy, oligarchy, and dictatorship; on the Roman Republic experiment and its failure of Empire; on the implications of Ancient Greece and Rome for American intellectual life and its representative democracy… and more.

Humanities West: Creating Leonardo


LECTURE 22-23 FEBRUARY


Iconic images like the Mona Lisa, The Last Supper, and the Vitruvian Man, along with scientific drawings and inventions far ahead of their time, are only the best known of Leonardo de Vinci's contributions. Join Humanities West in exploring his vast achievement and his interaction with the world that shaped him.

Black Eagles


THEATER 16-31 MARCH


African-American Shakespeare Company presents an extraordinary drama about the Tuskegee Airmen. The play opens at a reception honoring the Airmen. As the elderly pilots reminisce, they are joined by their younger selves to retell the story of this brave company. 15% off promo code: BlackEagles15

More for Members
Happy Hour in the Flying Leatherneck Lounge


MEMBERS ONLY

TUESDAY – FRIDAY 4 – 6 p.m.

The Flying Leatherneck Lounge on the Club's 2nd floor is a great place to run into old friends and meet new ones. If you're staying here, Happy Hour is complimentary. Why not stop in this week?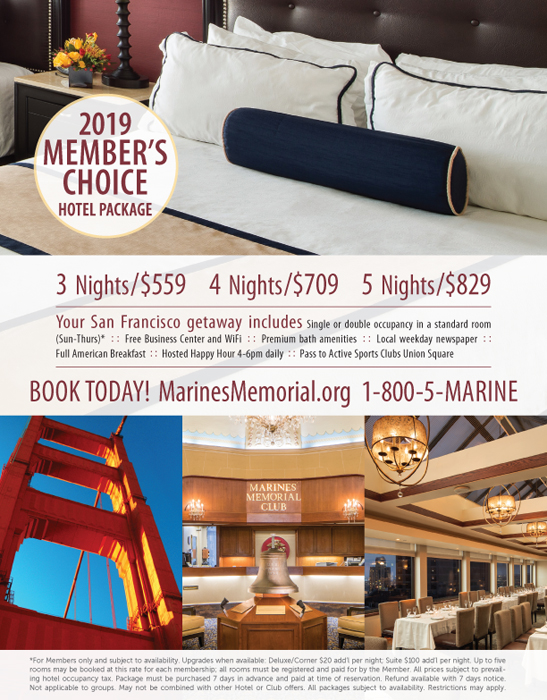 Wedding on a Budget? We can do that.


MMC EVENTS & CELEBRATIONS

Introducing the Skyline Wedding Package. Available Sunday and Monday evenings only, your all-inclusive celebration takes place on the Club's 12th floor, with stunning views, expert event coordination, exceptional service, and gourmet catering. Only $89 per person (50-90 guests).

CLICK HERE

TO EMAIL OR CALL LISA JIMENEZ AT (415) 830-9135

Reciprocal Clubs Worldwide: Download the List

Are you planning to travel? As a member, you have reciprocal privileges at over 240 private clubs around the world! The complete listing of our Reciprocal Clubs, including addresses and contact information, is available for download here.

609 Sutter St, San Francisco, CA 94102 | Tel: (415) 673-6672
Marine's Memorial Association © 2019 All rights reserved.